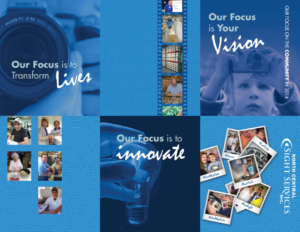 The year 2014 marks my 40th year with North Central Sight Services, Inc. (formerly the Lycoming County Association for the Blind). Over the four decades, I have seen tremendous growth, expansion, change and a myriad of people come and go. Through it all, we have stayed true to our commitment to create meaningful jobs for people who are blind, provide outstanding adjustment and rehab services for people losing their vision and screening for symptoms that may indicate potential visual problems. I have been so fortunate to have been and continue to be a part of this great organization.
In 2014, we continued to experience growth in our commercial business, streamline and realign our services to meet the changing needs of our community and make personnel changes to improve our team. We definitely had success in all three areas! As we begin 2015, we will continue to stay the course set forth in our Strategic Plan. In fact, this is year three. Later this year, we will begin the process of crafting a new plan to guide us in the years ahead.
I want to take this time to extend my thanks to our Board of Directors for their counsel and guidance and to our Associates for their tireless commitment to our mission. With a lot of hard work, we will continue to make a difference in our community, make lives better for people who are blind and prevent vision loss through our screening and educational efforts.
Sincerely,
Robert B. Garrett, President/C.E.O
To receive a digital copy of the annual report please email your request to: ncss@ncsight.org