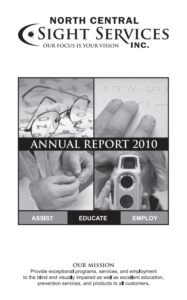 I'm very pleased with the turn-around we experienced in 2010. As you know, 2009 was very difficult for us with the loss of significant revenue from our flash media line. We were very focused in 2010 to reduce expenses throughout the organization, from suppliers, service providers and even the printing of our newsletter. The net result was more than $250,000 in savings at all levels.
Here at NCSS, we have an interesting structure whereby the net revenue generated by our Industry Program is used to offset the revenue shortages from our Social/Rehabilitation and Prevention service programs. Going forward, we have to become more creative and look for other revenue sources to fund our services programs. During 2011, we will be actively looking for grants and leaning on our Board Fundraising Committee to help us grow new revenue streams. We are fully committed to maintaining our service commitment in 2011.
Congratulations to all of our Associates who worked very hard to help us achieve success in 2010. We know that there are new funding challenges in 2011. I'm confident we'll move forward, realize additional cost savings and continue to provide outstanding services to all customers.
To receive a digital copy of the annual report please email your request to: ncss@ncsight.org