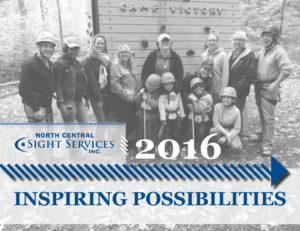 As we take a look at 2016, it is really a tale of two realities. We were delighted to receive the largest NIB Employment and Growth allocation in the history of the award. This means we certainly met our mission to create employment for our Associates who are blind. We also saw consistent growth in our services in our six county area. These are both good indicators that we are consistently meeting our mission.
On the other side of the ledger, we experienced one of the most challenging financial years in the fifty-nine years that we have been in business. With escalating material expenses and health insurance, it has certainly been a challenge.
The good news is that our Board of Directors remain very supportive and committed to our community mission to provide exceptional programs, services, and employment to the blind and visually impaired, as well as excellent education, prevention services, and products to all customers. 
2017 will definitely not be easy, but I am confident that with hard work and dedicated Associates, we will recover and continue to provide services and employment that truly makes a difference in the lives of people who are blind.
Robert B. Garrett
President and Chief Executive Officer
To receive a digital copy of the annual report please email your request to: ncss@ncsight.org