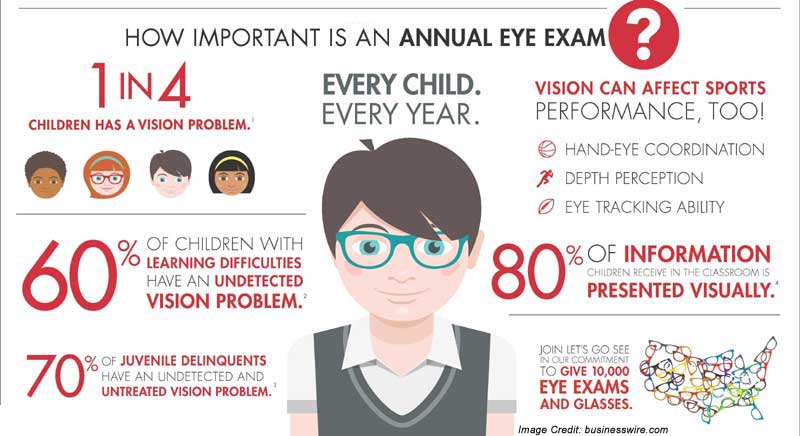 August is Children's Eye Health and Safety Month
Children's Eye Health and Safety Month is celebrated every August to bring attention to the importance of healthy eyes to prevent blindness and other sight impairments. The goal is to raise awareness about the importance of taking care of the health of children's eyes throughout the month. Good eyesight and eye health are vital for young children's physical and cognitive development. Because children of a young age are not always able to understand when their eyes are not healthy or when they are having a sight issue, parents need to be cognizant of their children's vision. They should understand and recognize when their child's sight is being hindered or they are having a significant issue that needs attention.
One of 20 children ages 3 to 5 has a vision problem that could result in permanent vision if left untreated. Despite these unsettling statistics, 80 percent of preschoolers do not receive an eye screening. The best way to ensure good vision health is to take your child for regular eye examinations. Eye examinations allow for diagnoses of impairments or difficulties your child may have with their vision better ensuring for greater success with learning.
Examinations are the best way to protect your child by health. It's important to know, eye problems can develop in between appointments as well. There are some behaviors that children may display that could be warning signs concerning their eye health:
Eye Appearance:
Eyes not lining up properly—one eye turns in or out
Eyelids are red, crusty, or swollen
Eyes are red or watery
Behavior:
Rubbing eyes all the time
Covers or closes an eye, Squints or frowns
Your Child Says:
"My eyes itch", "My eyes are burning", "My eyes are on fire"
---
At NCSS we offer vision screenings to our community. Our vision screenings detect symptoms of vison loss and potential eye diseases. Quick, easy and effective, our screening program incorporates the Spot™ Vision Screener, a handheld device that scans both eyes at the same time from a comfortable three feet away. It can detect potential vision issues across all age groups, starting at six-months. If an individual shows signs of a visual problem and does not pass our screening, we refer that individual to an eye care professional of his or her choice for a complete eye exam.

Functional Vision Exams for Children
NCSS' Functional Vision Clinic (FVC) is an initiative that aims to serve school aged children with unique vision capabilities and those who would otherwise have financial hardship or are under/uninsured. It provides a complete eye examination with tests that can find vision-related learning problems in children.
For more information, please contact our Prevention of Blindness Department